This page allows the researchers members of the RQSPAL to share their ongoing studies. To submit a study, please complete this form and send it to us at inforqspal@crchudequebec.ulaval.ca. 
---
Link to fill out the questionnaires
---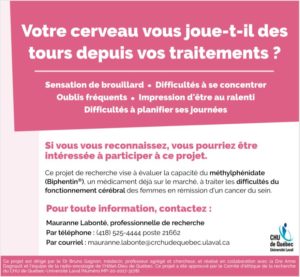 Have you received chemotherapy and/or radiotherapy for breast cancer
and your brain has been playing tricks on you since your treatments?
The research team of Dr. Bruno Gagnon, physician and associate professor at the Faculty of Medicine of Laval University, is leading a research project aimed at evaluating the efficacy of Methylphenidate (Biphentin®), a drug already on the market, for the treatment of cognitive deficits in women with breast cancer.
YOU CAN PARTICIPATE IF:
-You are a woman aged between 18 and 75 years old
-You have received chemotherapy and/or radiotherapy treatment for breast cancer
PARTICIPATION CONSISTS OF:
-Take a drug or a placebo every morning for a period of 28 days
-Make three visits to the Hôtel-Dieu de Québec
-Participate in two phone calls of approximately 10 minutes
FOR MORE INFORMATION: 
Contact Mauranne Labonté, study coordinator:
Phone: (418) 525-4444 ext 21662
Email: mauranne.labonte@crchudequebec.ulaval.ca
This study was approved by the Ethics Committee of the CHU de Québec-Université Laval Research Center (MP-20-2017-3178).
---
Researcher: Delphine Rioux (student), supervised by Isabelle Dumont, Université du Québec à Montréal
Study: L'exploration des pratiques des travailleurs sociaux exercées en contexte d'aide médicale à mourir
Abstract: It is a study on the practices of social workers in the context of medical assistance in dying. We want discover the contribution of social work in the process. The target population will be eight social workers who practice in palliative care or in oncology since at least one year and who are members of the Ordre des travailleurs sociaux et des thérapeutes conjugaux et familiaux du Québec. Furthermore, we will recruit social workers that have been involved in, at least, one request for medical assistance in dying. We will use qualitative interview lasting 60 to 90 minutes to gain access to the point of view of the social workers. We anticipate a six-month period to complete the recruitment. We will meet with interested social workers individually in their workplace at the CHU de Québec – Université Laval or in another location of their choice.
---
Researcher: Gina Bravo, Université de Sherbrooke
Study: A nationwide study of the attitudes of informal caregivers of persons with dementia towards extending medical assistance in dying to incompetent patients
Abstract: A recent study in Quebec found that 91% of informal caregivers of persons with dementia are in favour to extend medical assistance in dying to incompetent patients, in some settings. This high level of support for an amendment to the current Act on end-of-life care has been linked, by many respondents to the heavy burden for the informal caregivers and a lack of services to support them in their role. The purpose of this study is to determine whether the high level of support observed in Québec extends to the rest of Canada, and to test the hypothesis that the burden and the unfilled needs of support are greater amond those who are in favour to extend medical assistance in dying to those who are unfit to consent. Like the Quebec study, the one conducted in the rest of Canada will consist of a postal survey using short clinical vignettes. Informal caregivers will be reached through the local Alzheimer Societies. The questionnaire will be based on the one used in Quebec, some questions that measure the subjective burden and unfilled needs of the informal caregivers will be added.
---
Researcher: Sylvie Fortin, Department of Anthropology, Université de Montréal
Study: Expériences de fin de vie dans un Montréal pluriel
Abstract: This study documents the experience of end-of-life and death at home and/or in health or residential facilities of families/friends of minority groups (migrants and non-migrants) in Montreal who have lost, in the last year, a loved one (child, spouse, friend, brother or sister, parent, grandparent, etc.). The research principally focuses on the end-of-life period and the challenges and issues faced by the relatives of the dying person through his experience. This search is part of a societal reflexion on « dying well », « dying with dignity » and the recent implementation of legislative frameworks for end-of-life care in Québec (Bill 2) and Canada (Bill C-14, 2016). We will meet individually relatives of people who have died in the last year in Montreal for a confidential interview lasting approximately 90 minutes, in the langage of their choice.